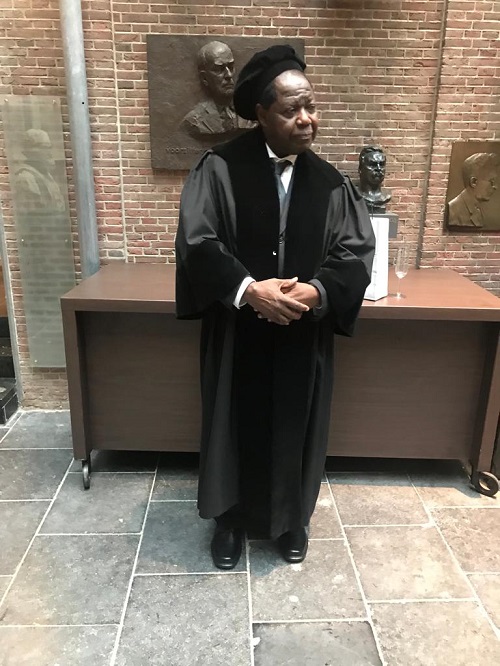 Friday 30 September, Prof. Dr. Felix Ameka accepted a chair, initiated by CIPL and CIPSH, by delivering his inaugural lecture 'Turning the tide from language endangerment to ethnolinguistic vitality'. Language endangerment may be considered the 'third extension crisis' after biodiversity and the erosion of traditional cultures, and therefore one needs all hands on deck to stop this crisis. However, it is not only up to experts to turn the tide, Prof. Ameka stated. Just as in other crises like the climate change, also ordinary people, speakers of languages, must take part. In the second half of his speech Felix Ameka described how native speakers of Dutch react when a foreigner who is less fluent in their mother tongue approaches them. They immediately switch to English and even when the foreigner asks to be answered in Dutch most Dutchmen will continue in English. By doing so, native speakers of Dutch endanger the vitality of their own language. This disrespect is as threatening as the extinction of languages. Languages will be slowly reduced to certain spheres of life in this way and therefore limited in their viability. Prof. Ameka calls on everyone, linguists and users of languages, to stop this decline. It is not without reason that his chair is called 'Ethnolinguistic Vitality and Diversity in the World'.
CIPL has spent years trying to establish a chair at a university for endangered languages. All these efforts were unsuccessful until CIPL was able to combine forces with CIPSH, Conseil International de la Philosophie et des Sciences Humaines, an NGO within Unesco , which federates hundreds of different learned societies in the field of philosophy, human sciences and related subjects. CIPL is among the founding members of CIPSH. Three years ago CIPSH launched a program for chairs in the humanities and the social sciences. The aim of this program is to stimulate international cooperation in areas that fall outside the scope of daily attention. Unfortunately, language endangerment is such a topic. Prof. Felix Ameka, a well-known specialist in African languages, will cooperate with colleagues in the US, Brazil, Ghana, Japan, UK and the Netherlands to draw more attention to this theme and to train young colleagues to turn the tide from language endangerment to language vitality.
To celebrate the establishment of the chair and the inauguration of its first holder, Prof. Ameka and CIPL organized a two-day symposium in Leiden. Speakers at this symposium were: Dr. Mandana Seyfeddinipur, director of ELDP, the Endangered Languages Documentation Program now in Berlin, Prof. Gabriela Paez Baez (Oregon), Prof. Birgit Hellwig (Cologne), Prof. Serge Sagna (Manchester), Dr. Rachel Ayuk Ojong Diba (Buffalo), Prof. Anne Pauwels (London & Melbourne), Prof. James Essegbey (Florida), Dr. Zinnia Mevawalla (Strathclyde, Scotland) and Prof. Deborah Hill (Canberra). Dozens of interested people attended the symposium.